IVANA BRENNER
Not having been born an animal seems to be one of my secret nostalgias. They sometimes cry out from the distance of many generations, and I cannot but respond with a sense of unease. It is the calling.
Clarice Lispector

One of my childhood memories is having my hand sucked by an unweaned calf, who I guess thought my hand was her mother's breast. I there understood with my body that a cow feels as much as a cat as much as a dog as much as a chicken. I understood inter-species love, and I also understood the route of meat, from the unweaned calf to my plate, so I didn't want to eat animals again.
I was a mother for many years. My son was a non-human person, and I loved him with my bones. When he left, the world left with him, and with a cramped heart I decided I didn't want to inflict any suffering on to other animals.

I am thus looking for a way to carry on a plant-based diet, and I join the calling for everyone to follow this diet as the only sustainable way to keep living in this planet along with other species and non-human persons, as well as avoiding the dramatic psychological consequences for human workers in slaughter houses.
Please join <3

No haber nacido bicho parece ser una de mis secretas nostalgias. Ellos a veces claman desde la lejanía y yo no puedo responder sino sintiendo desasosiego. Es el llamado.
Clarice Lispector

Una de mis memorias de chiquita es de un ternero lactante succionando mi mano como si fuera el pecho de su madre. Ahí entendí con mi cuerpo que una vaca siente igual que un gato igual que un perro igual que un pollo. Entendí el amor inter-especies, y también entendí la ruta de la carne, del ternero hasta mi plato, y no quise comer más animales.

Fui madre por muchos años. Mi hijo era una persona no humana, y lo amé hasta los huesos. Cuando se fue, el mundo se fue con él, y con el corazon apretado decidí que no quería causar ningún sufrimiento a otros animalitos.

Por eso estoy buscando una forma de llevar una alimentación basada en plantas, y me uno al llamado de seguir esta dieta como la única manera sustentable de seguir viviendo en este planeta junto al resto de las especies y personas no-humanas, así como de evitar las dramáticas consecuencias psicológicas de lxs trabajadorxs humanxs de los mataderos.
Por favor únanse <3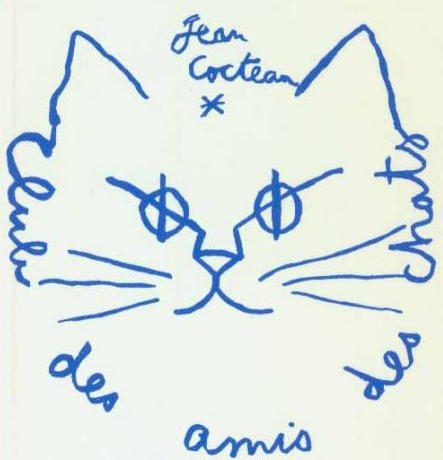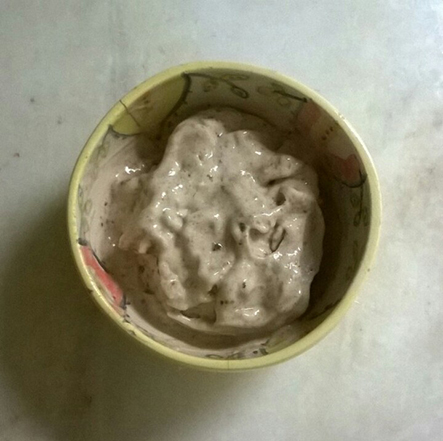 I invite you to join the Club des Amis des Chats and perform this plant-based menu - partially or in its totality, allowing for variations that will make the dishes better, maybe share it with others, maybe cook together.
Please post and tag/hashtag #clubdesamisdeschat, or send me back your documentation: pictures, words, they will live in this site as the documentation of the score.
HOME-MADE BREAD WITH WALNUTS AND RAISINS
For two medium pieces of bread, mix: 4 cups of flour, 2 coffee spoons of salt and 2 coffee spoons of sugar. Add yeast (1/4 oz / 7 gr. -previously dissolved - if you are using dry yeast), warm water and a tablespoon of olive oil to form the dough. Knead and let raise in a warm place for at least 1.5 hours.
Once it has risen, part the dough in two, add walnuts and raisins, ansd form the breads. Paint with water - or olive oil for a golden finish- and bake.
*A great iteration is to add turmeric to the dry ingredients, and more olive oil the wet ingredients. In that case I don't add the walnuts + raisins, but almonds are a great pairing.
Lxs invito a unirse al Club des Amis des Chats y cocinar este menú vegano - parcialmente o entero, pudiendo hacer variaciones que mejoren los platos, quizás compartirlo con otros, quizás cocinar juntos.
Porfa posteen y tagueen / usen #clubdesamisdeschats, o mándenme su documentación: sus fotos y palabras vivirán en esta página como documentación del proyecto.
PAN CASERO DE NUECES Y PASAS DE UVA
Para dos panes medianos mezclar: 4 tazas de harina, 2 cucharaditas de café de sal, y dos cucharaditas de café de azúcar. Agregar la levadura (25 gr. si es levadura fresca, 7 gr. y previamente disuelta si es en polvo), y una cucharada sopera de aceite de oliva para formar la masa. Amasar y dejar levar al menos una hora y media en un lugar cálido.
Una vez que haya levado, partir la masa en dos, agregar las nueces y pasas, y formar los panes. Pintar con agua - o aceite de oliva, para que queden más dorados- y hornear.
* Una buena variante es agregar cúrcuma a los ingredientes secos, y más aceite de oliva a los húmedos. En este caso no agrego las nueces y pasas, pero las almendras quedan muy bien.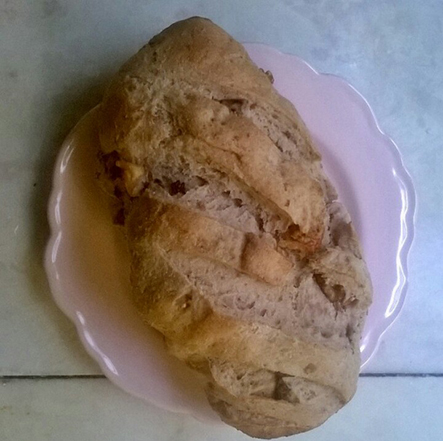 CAJU-LIME DIP
Soak the cajus overnight, or for at least 4 hours. Get rid of the old water. Blend with lime or lemon juice, nutritional yeast, salt, olive oil, pepper, and a little water if needed. You can add garlic or any herbs.
LENTIL HUMMUS / BEET-CHICKPEA HUMMUS
Boil lentils until soft. Drain, and blend with salt, garlic, pepper, cumin, a lot of lemon, and tahini sauce if you have some.
*Lemon juice will help absorb the iron naturally present in the lentils.
*For the beet-chcikpea iteration, soak the chickpeas overnight. Follow the same steps and add soft boiled beet to blend.
BUTTERNUT SQUASH AND COCONUT MILK SOUP
Boil 2 potatos and 2 carrots in 0.5 gallons / 2 liters of water. Cook until well done with 1/2 onion, salt, garlic, and some celery leaves. When done, take out the carrots and potatos (you can use blend them with olive oil, lemon, salt and pepper to make a vegannaise).
Add about 700 gr./1.5 pounds of chopped butternut squash. You can add with the skin and peel it later. Once the butternut squash is well cooked, blend everything with 3.5 to 6.5 fl oz /100 to 200 ml of coconut milk. Add some pepper and voilà.
*If you add quinoa to the soup, it will form a complete protein - euivalent to that of meat- when eaten with the hummus.
BANANA, CINAMON, HONEY AND RAISIN ICE CREAM
Whenever you have bananas that are very ripe and about to go bad, chop them and keep them in the freezer!
Take the chopped ripe bananas out of the freezer, let them warm just one or two minutes, and blend with cinamon, raisins, and honey (or a vegan syrup - raisins or dates will already add sweetness). Tates great with crushed almonds or cajus on top.
DESAYUNO PARA EL DÍA SIGUIENTE: PORRIDGE SIN COCCIÓN
Desayuno esto todos los días hace como cuatro años, es muy nutritivo y llena.
Para dos bowls, mezclar 1 taza de avena arrollada (si es cortada fina va a quedar más cremoso) con 2 cucharadas coperas colmadas de semillas de chia, luego agregar una taza de leche de almendras. Comer a la mañana siguiente con frutos rojos abajo y banana cortada en rodajas arriba.
*Se puede agregar canela y pasas a los ingredientes secos, miel o azúcar a toda la mezcla, y semillas o cualquier fruta arriba. Queda espectacular con higos cuando están en temporada.
*Para hacer leche de almendras, remojar 100 gramos de almendras durante la noche, o al menos 4 horas, luego colar y tirar ese agua. Porcesar con más o menos 450/500 ml de agua, y colar. La pulpa que sobra se puede agregar a la mezcla para la masa del pan, lo hace más cremoso y nutritivo.
*Una buena variante es reemplazar la leche de almendras con leche de coco, y comerlo con mango. Es muy buen postre.
HELADO DE BANANA, CANELA, MIEL Y PASAS
Cuando tengan bananas bien maduras y a punto de estar pasadas, cortarlas y guardar en el freezer!
Sacar las bananas del freezer y dejar descongelar 1-2 minutos, y procesar con canela, pasas de uva y miel (o algún syrup vegano - las pasas o dátiles ya van a agregar dulzura). Queda muy bien con castañas o almendras partidas arriba.
SOPA DE CALABAZA Y LECHE DE COCO
Hervir 2 papas y dos zanahorias en 2 litros de agua, con 1/2 cebolla, sal, ajo, y unas hojas de apio. Cuando las papas y zanahorias estén bien cocidas, retirar y reservar- se pueden usar para hacer una mayonesa vegana procesándolas con sal, pimienta, limón y aceite de oliva.
Agregar al caldo aproximadamente 700 gr. de calabaza en pedazos - se deja la cáscara, que se saca después. Una vez que esté bien hecha, procesar todo con 100-200 ml de leche de coco. Agregar pimienta y listo.
*Si se agrega quinoa a la sopa, forma una proeína completa - equivalente a la de la carne- cuando se come con el hummus.
RAW PORRIDGE FOR THE DAY AFTER
I have been eating this same breakfast for about four years now, it is is very filling and nutritious.
For two bowls, mix 1 cup of rolled oatmeal (if it's finely cut, or quick oatmeal, the result will be creamier) with 2 generous tablespoonsof chia seeds, then add 1 cup of almond milk. Eat the morning after with raspberries and blueberries in the bottom, and sliced a banana on top.
*You can add cinnamon and raisins to the dry ingredients, honey or sugar to the mix, and seeds or other fruits on top. Tates great with figs when in season.
*To make home-made almond milk, soak about 100 gr./0.25 pounds of almonds overnight or at least 4 hours, then get rid of that water. Blend the almonds with 1 3/4 to 2 cups of water, then drain with a cheesecloth. You can use the almond pulp to add to the bread, it will make it creamier and more nutritious.
*A possible iteration of this is to replace almond milk with coconut milk, and eat with mangoes on top. It makes a great dessert.
HUMMUS DE LENTEJAS / HUMMUS DE GARBANZO Y REMOLACHA
Hervir las lentejas hasta que estén blanditas. Colar, y procesar con sal, ajo, comino, mucho limón, y salsa tahini si tienen.
*El jugo de limón ayuda a aboserver el hierro de las lentejas.
*Para la versión de garbanzo y remolacha, remojar los garbanzos la noche anterior, seguir los mismo pasos y agregar remolacha hervida para procesar todo junto.
DIP DE CASTAÑAS DE CAJÚ Y LIMA
Remojar las castañas durante la noche, o al menos 4 horas. Tirar el agua del remojo. Mezclar con minipimer o precesadora con jugo de limón o lima, levadura de cerveza en copos, sal, aceite de oliva, pimienta y un poquito de agua si es necesario. Se puede agregar ajo, cebolla de verdeo, o cualquier hierba.
LE DÉGEL @ JULIO PARIS